"25 Mile Walk to Summit School on National Walk to School Day"

Interview with Bruce:
How did your walk come about?
Like many ideas it came about whimsically at first. I heard about the National Walk to School day and imagined, what would it be like to walk to Summit School where I volunteer -from my home in Iowa City? 25 miles away. Somehow it captured my imagination.

Why did you walk to Summit Schools?
I think Summit Schools is special. Their teachers are empowered to meet each child where they are at, and that seems to make a big difference.
The walk reminded me that life is a step-by-step prospect. Like a non-stop pop quiz, we never know what surprise is around the corner, what new challenge? At their best, children seem to thrive in that environment, and grow through it. That inspires me.

So how did the walk unfold?
At 6:30 in the morning it was pitch black and 40ish degrees out, I wasn't prepared for that, but a coffee shop in North Liberty was a mere 90 minutes away by foot. That turned out to be my only stop because I realized I had not allocated enough time for stretch or food breaks. This was not going to be a day for a casual stroll. An app on my phone was allowing the school to monitor my route progress online, and a pedometer was tracking my steps..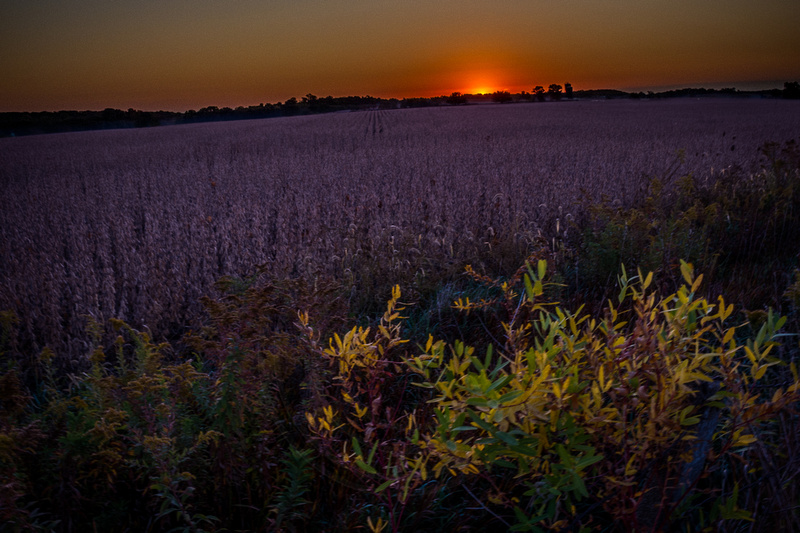 The sun came up and I began losing layers, -four Summit T shirts. A beautiful fall day and the colorful scenery was great to enjoy in slow motion.

I did not physically prepare for the walk. My legs and feet were in great shape for the first 12 miles. As the route unfolded leg muscles stiffened, shortening my stride. Gradually tightening up to max at the 1 hour remaining mark, as I was leaving downtown CR for Summit Schools. I was determined that I had to reach Summit by 3PM before the kids left for the day. I remembered I had passed a sidewalk with the words "Keep Going" spray painted on it from a recent event. Good advice.
My friend Jeanelle ran across Iowa last year to raise awareness and support for family farmers. Her perseverance in the face of stress gave me courage. I remember her advice -'it's all temporary'. I kept walking.
Governor Terry Branstad has a Healthy Iowa Initiative. Having nothing better to do with my upper body, I snacked:
The fall colors were amazing, and distracting as I wanted to stop to take more pictures, but not this time.
The last two images are courtesy of my excellent route support and terrific photographer Kaylyn Hoskyns.
By the end the sun was bright and 85 degrees. Knees no longer wanted to bend, and stepping up from the street to a curb was a challenge. When I arrived at Regent street it was with a great deal of anticipation, this was the final stretch! Even the street sign was worthy of a photo.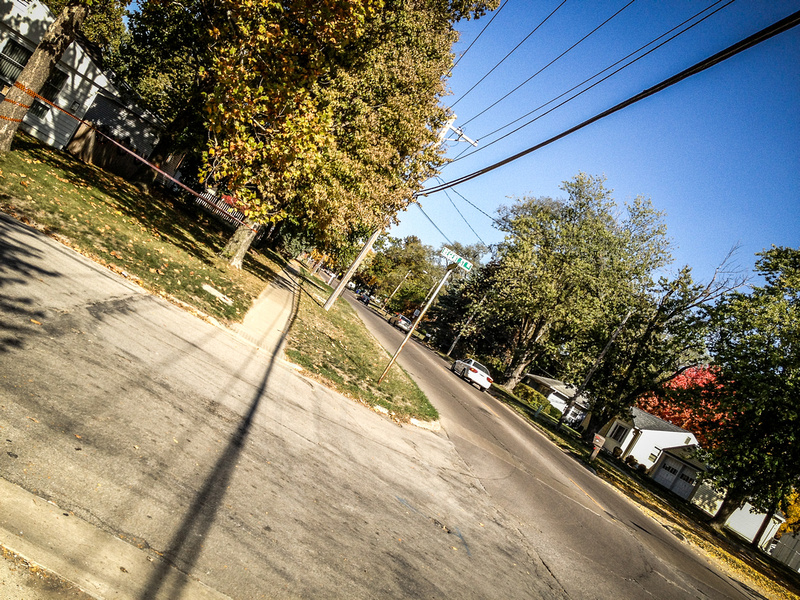 As I turned the corner, I could see the Summit School building at the end of the block. The whole school had piled out onto the front lawn, with banners. I was immediately overwhelmed. Surprise. Happiness. Lump in throat. Glistening eyes. Adrenaline lengthened my stride.
When staff and students saw me they began waiving and cheering encouragement. A chant began. I could hear all the commotion a block away. None of the uproar subsided even as I got closer.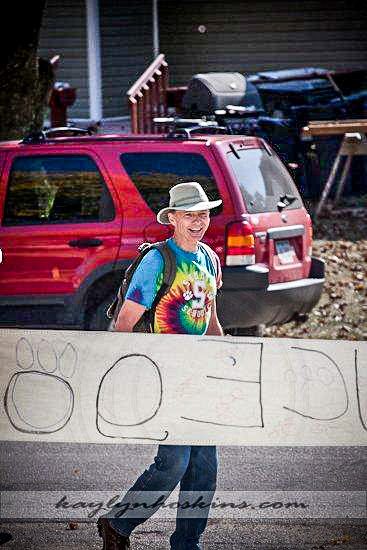 I walked through a huge finish line banner and was immediately surrounded in a group hug of medium, small and micro sizes.
So fatigued were my muscles, and swimming in emotions, I had trouble keeping my balance.

132000 feet, 8 1/2 hours doesn't begin to tell the story...

Any final thoughts?
I am so grateful for all that yesterday was, and will always be. Kaylyn said it best: "Goosebumps don't Lie!" -that described the last block and the part of the day I will most cherish.
No doubt I will spend several days reflecting on it, but I will never forget that special day, or my 140 uniquely wonderfully welcoming Summit friends.